2020 Room Rates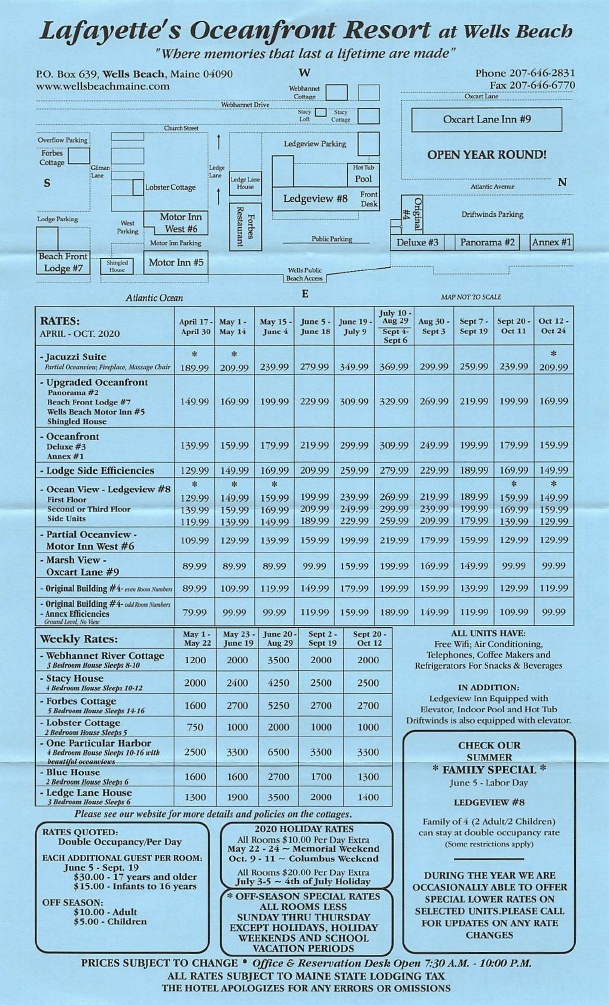 Reservation and Guest Policies
Rates: All rates quoted are double occupancy.
Each additional guest per room per day:
June 5 – September 21, 2020:
$30.00 per adult (17 years and older)
$15.00 per child (Infant to 16 years)
Off Season:
$10.00 per adult (17 years and older)
$5.00 per child (2-16 years)
Check-out: 11:00 a.m.
Check-in: 2:00 p.m.
*Cottage check-in: 4:00 p.m.
Pet Policy: Sorry, no pets at any time.
Motel facilities are for registered guests only. We have no facilities available for extra, unregistered visitors.
Advance Deposits: One night deposit required for reservations. Personal check or money orders are accepted for deposits. Full payment is due on arrival. Cash, personal check, travelers check, Visa, MasterCard or Discover accepted for payment.
Cancellations: Deposits are refunded if we are notified up to seven days in advance of arrival date, and we are able to rerent the room. There is a $25.00 charge for cancellation of any reservation June through October and any major holidays throughout the year. Please consider your departure date carefully. In the event you leave before the end of your reservation June through October, the full rate will be charged. Cottage policies will differ.
Minimum Stays: Rooms are subject to minimum stays during the summer season and at various times during the year. Please check with reservations for further information. Cottage policies may differ. Please inquire with our staff.
Guest Parking: Each motel building has ONE parking space per unit. We are sorry that we have no provisions for any extra vehicles mid-June through October.
One Casino Square
For the convenience of our guests, Forbes Seafood Restaurant includes a lunch room and take-out centrally located in the square just a few steps away from each building and to the entrance to the beach. Enjoy breakfast or lunch with fresh seafood, Maine lobster, sandwiches, chowders, salads, etc.
Shops featuring souvenirs, clothing, beach accessories, and gifts are also open on a regular schedule during the spring through late fall.