Deluxe Building
Another of the three buildings that make up the Driftwinds, also located on the oceanfront is our two-story Deluxe. These traditional beachside rooms with wood paneling have individual balconies on the second floor and the oceanfront patio on the first floor, accessed from sliding glass doors. These rooms can be reached via elevator from the Driftwinds parking lot. Click room numbers below for Deluxe room details.

Clickable Diagram  – Guest Rooms Are In Yellow Buildings.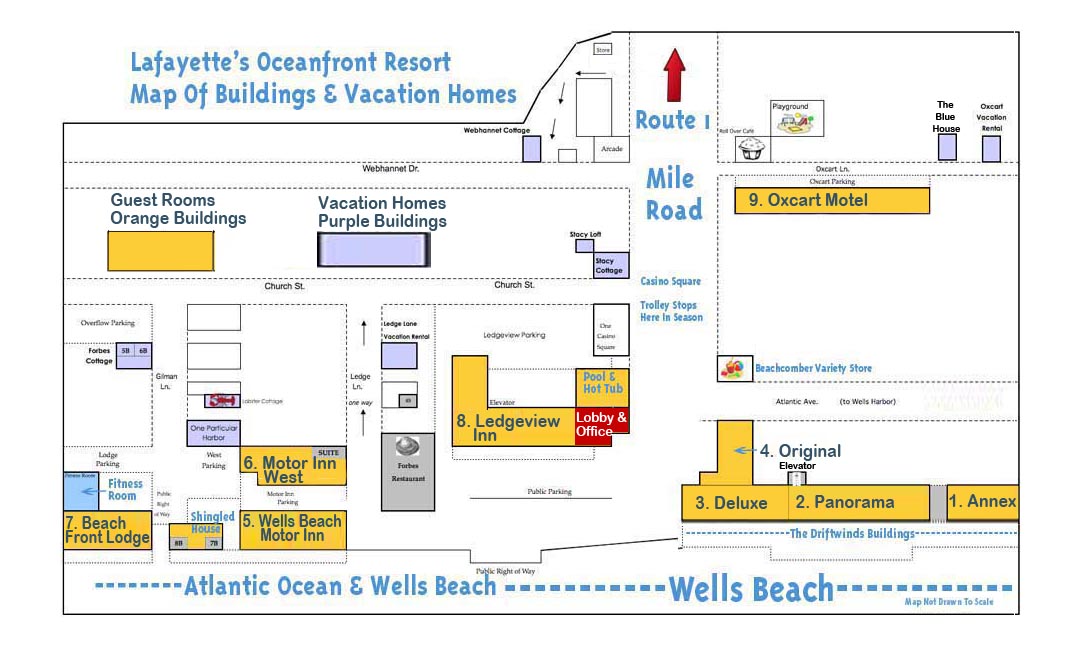 Lafayette's guest rooms and suites are located in a compound of nine buildings. Five are oceanfront and four are just a few steps from the beach. Our guest rooms provide a variety of bedding options for couples and families. Some units have kitchenettes, most have common or private decks, and most have a view of the beach and ocean. All are a few steps from our resort amenities, including a large year round indoor heated pool, waterfall hot tub and modern exercise room. Make the most out of your next vacation or getaway to Wells Beach in one of these wonderful guest rooms! Click To View Guest Rooms.
Deluxe Wells Beach Rooms