Vacation Cottage Home Rentals
Lafayette's unique seaside "cottages" located steps away from sandy Wells Beach. We enjoy calling them "cottages" but they are much more. These bright and airy homes are located close to the beach and all resort amenities. Most cottages come with full kitchens and spacious dining rooms that welcome guests to a timeless retreat.
All cottages are either on the ocean or just a few steps away. Cottage rentals include use of the indoor pool, hot tub and fitness room at Lafayette's Oceanfront Resort at Wells Beach, but not the oceanfront decks, which are for motel guests. All cottages are close to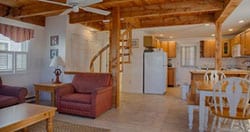 our lobby in the Ledgeview building, which houses our heated indoor pool and oversized hot tub with a therapeutic waterfall. Our modern workout room is located in Building #7, Beach Front Lodge.
NOTE: On our Map Of Buildings, the vacation homes are PURPLE. Click any building for details and photos.